You have questions? Here are the answers! Feel free to contact us for further informations at: stay@o-sono-galicia.com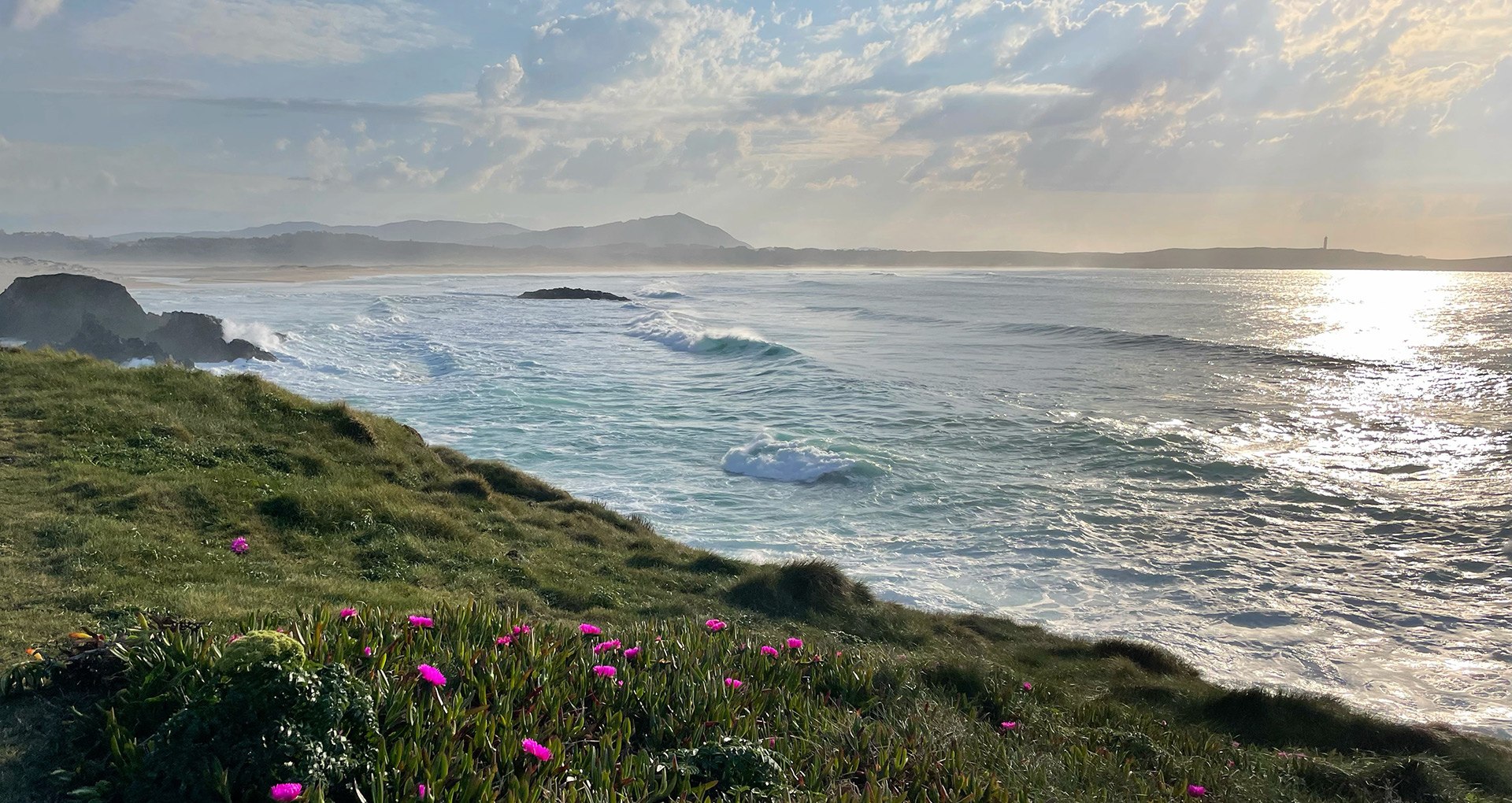 Get there
We´re overlooking the 3,5km bay of Valdoviño in beautiful Galicia. You can do your wavecheck right out of your window. A 10min walkway will guide you to the beach.
Which airport should I fly to?
There are three main airports we recommend. A Coruña and Santiago de Compostela are both 1 hour drive distance. Porto in Portugal is 3 hours drive away, but flights and rental cars are cheapest there. And Porto is a lovely city to explore.
How do I get from the airport to o soño?
We highly recommend to rent a car, because of the many bays around to surf or beautiful places to hike and also connections are still not the best.
If you don´t wanna do that, you can get a Transfer with Uber Taxi or Get Transfer App: https://gettransfer.com/en.
We can also organize it for you, costs are around 120 €/ Transfer.
Cheaper option is to travel by bus:
From Airport A Coruña to Ferrol:
Take bus line ALSA- A4 (Hospital Abente Y Lago) to bus station Alfonso Molina Frente (21min, every 30min). From here you can walk to the main bus station in A Coruña Estación A Coruña and take the Bus ALVIA 04095 Ferrol (1h10min, schedule https://arriva.es/es/galicia/para-viajar/buscador).
From Ferrol you have to take a Taxi/ Uber or we can arrange a Pick up.
From Airport Santiago de Compostela to Ferrol:
Take the Airport Shuttle to the Bus station "Estacion Intermodal".
From the autobus station, Monbus is connecting you to Ferrol. https://www.monbus.es/es (1 h 20min).
From Ferrol you have to take a Taxi/ Uber or we can arrange a Pick up.
From Airport in Porto to Ferrol:
We would recommend to rent a car and take a little sightseeing in Porto (J.K. Rowling got inspired here for her Harry Potter books, you will feel the spirit) before getting on the 3 hours drive to us.
A Flix Bus is also running from Porto to Ferrol.
From Ferrol you have to take a Taxi/ Uber or we can arrange a Pick up.
Surf & Yoga
Do I need a Wetsuit for surfing?
Yes! We enjoy surfing with a 4/3mm wetsuit, in Winter shoes and cloves will keep you also warm. We do NOT rent wetsuits, please bring your own.
What about water temperatures?
Actual water temperatures you can check here.
In April when we open o soño, water temperatures begin rising from 13 degrees till peak in august to 19 degrees, which can stay until late october before falling again to 14 in december. But as you know: climate change is here and forecasts are more difficult to do.
Yes, our part of the atlantic ocean is colder than in the south but water is also cristal clear and waves are more consistent.
You can take all boards we have for free when you stay with us. We have 4 sustainable handshaped boards shaped by Stefan from Kunti_qi (https://www.kuntiqi.com/) of his Collective series (https://collectivesurfboards.com/)  from Retro fish till Longboard. Additional we have 5 other boards from 6,10 Malibu to 9,2 Longboard. Please remember that we do not have wetsuits.
For sure you can We will connect you to our local surfschool and book your classes with an english speaking coach. It´s about 125€ a week to pay directly to the surf school. You can also book a surfcoach or a surfguiding.
Where is the best spot to surf?
This is hard to say because we have so many spots around in 20 km distance. Depending if you wanna do longboarding or riding your shortboard. 3 homespots are in front of our door: Valdoviño/Praia Lago/Lighting house, all in the same bay. In only 4 km distance you will find famous wsl spot Pantin where the yearly running contest is taking part. We will provide you with informations about all spots and swells when you are here.
What can I do when i don´t wanna surf?
You don´t have to be a surfer to stay at o soño. There are so many things to do like hiking or mountainbiking or just lying in the hammock listening to the birds and reading a book. We have a little library where you can also enjoy silence. Our Pool invites you to take a swim without leaving o soño.The garden is huge and has a lot of spaces to relax. Or grab one of our mountainbikes to go on a trail up the mountain into the forest or along the cliffs to the next bay Pantin. There are endless possibilites.
Is there a place for practicing Yoga?
We have an outdoor yoga terrace with a spectacular ocean view and an indoor yoga shalla. The best: one yoga class/day is for free! Whether it is sunrise Vinyasa yoga outdoors or Yin Yoga in our lovely shalla indoors. Also we provide you with sustainable eco mats from Lotuscraft and cork Blocks along with straps no matter if you are a beginner or on advanced level. If you want a personal class for you alone or to practice inversions just ask us. You can also hast your own Yoga Retreat.
Facilities
Yes, we have WIFI in almost every corners of the house.
Where should I leave my dog when i´m on holiday?
Just bring it with you, our little dog Fay (Podenco Mix) is more than happy to have a partner for playing and the garden is closed all around.
Do I need to bring a towel?
We provide you with towels for inside use, if you want to use one at the beach or for the pool you should provide yourself with one.
Do I need to bring my own espresso beans if I´m a coffee addict?
No no no, we are also coffee lovers and coffee is for free all day. You can prepare yourself an espresso or tea anytime in our kitchen. We provide you with Bialettis and French Press along with fair trade organic coffee, different kind of teas (green, black, fruit, herbs) and plantbased milks.
Can I store cow milk and meat in your fridge?
No. We are free of animal products at o soño because of many reasons. If you wanna have a chat about it we are happy to share our passion for food and animals. We provide you with all proteins and vitamins you need and you won´t miss anything.
Can I store anything in your fridge?
We provide you with beer, selected galician wines and soft drinks (also f.e.Tonic for a Gin) on base of an honesty list with reasonable prices. For hygienic reasons we friendly ask you not to store your personal stuff in our fridge.
Breakfastbar is open all day with Granola, yoghurt an fruits. Also you will get a lunchbox ready around 9:00 am to take away filled with yummy soulfood for the day. For dinner we all come together, enjoying what our garden offers and many more. You will miss it when you leave, that´s a promise. And maybe you´ll become vegan too…
1 month before you start your holidays we send you an email where we ask you to transfer the money to our bank account which you will find in that email. Now your reservation turns into a booking.This deposit is also your cancelation fee. As we are such a small guesthouse we can not reservate rooms until the last day. If we or you will find someone filling your space we will for sure refund your money.